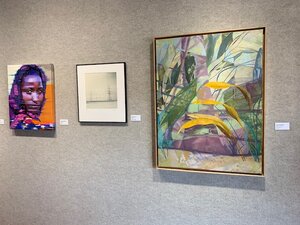 Grateful that a painting was selected for GALEX54 National Competition & Exhibit at Galesburg Civi Art Center in Galesburg, IL.
The exhibition was on view  March, 2020; cut short due to COVID – 19 corona virus pandemic.
Galesburg Civic Art Center
114 East Main Street
Galesburg, Illinois 61401
ONLINE GALLERY LINK:
https://www.galesburgarts.org/galex-54-national-competition-exhibition?fbclid=IwAR2YDuCDBi5y00oKVfWr_Y_5psc-e9OHCvTieqzI-sm1DHIKknuE25GtZYk
Juror's Comments
"This was a tough selection process – first making a round of selections from 941 entries, and then whittling it down from 150 to just 73 pieces for the exhibition. When meeting the pieces in person, I first went through and tagged the top tier (I wish I could give 15 awards, instead of just six!).
The conditions I thought about, were what the piece was saying, appreciating the skill, and finally checking which had left a trace in my memory from a month ago. A lot of times for me as a painter, artist, fellow creator, I find the ones that left a trace may connect with my own bias – but they must have a good message, great skill, and stick, and, for me and my bias, I expect to see some sort of hand, knowing that the person who made it is a human being, that it passed through the body in some way. Everyone in this show satisfied the conditions in part, enough for me to choose it. Any pieces that appeared way too computer generated, dropped right off, those were disappointments – print your thing out and scribble on it, just give me some of your own gesture without having to go through a machine or an algorithm. I mean, we are going to get there fast enough as a species! That may seem unfair to photographers; however, there were some photography pieces that made my top 15.
I wanted to encourage effort, and reward stickiness – that thing that I can walk away with as another creator and still learn from you, means something to me. You have given something to me that I haven't been able to express, you are giving that to me as a viewer. "I hadn't thought about the world like this, a new surprise." — Rose Frantzen