My paintings are experiences of outdoor places not as the land actually appears, but as I interpret it. My paintings create a feeling of being in a space. Frequently I choose the aerial perspective. Seemingly standing at the top, looking down, we feel as if we are inside the painting. Whereas many painters make the viewer feel like a detached observer, possibly even a spectator, tourist or innocent witness, I prefer to pull the viewer into a situation while inviting one to ponder a sense of place or adventure. This state of heightened consciousness may create a state of apprehension and interaction.
Being outdoors can be a link to a memory or to childhood. I was raised on a rural Wisconsin pine tree farm where trees beckoned to me as imaginary childhood friends. My connection to outdoor energy is like an enticing adventure. There is a transcendent quality of the simple experience of being in nature.
My work emphasizes topological forms and gestures that mimic the surface of what is being painted.  I paint with focus on mark-making, lines and forms. Color is a vehicle to convey energy from nature. I create images of real and imaginary environments inviting viewers to visit.
Julie England is an oil painter who grew up in Wisconsin, Florida and Texas. In 2018 she was honored with the SMU Mary Vernon Painting Prize from the Southern Methodist University Meadows Art faculty. Her artwork was included in New Texas Talent XXVII in 2020 and the Texas National 2018 Art Competition & Exhibition, juried by Jed Perl. She has exhibited extensively in Texas and elsewhere in the US. She participated in an art residency at the Vermont Studio Center in Johnson, Vermont in 2018.
She earned a Bachelor's degree in Chemical Engineering at Texas Tech University in Lubbock, TX. After a career in the semiconductor industry, England earned an Associates of Arts degree in 2015 at Brookhaven College, Farmers Branch, Texas. In 2018 she earned a Bachelor's of Fine Art degree from Southern Methodist University, Dallas, Texas. England is a member of Phi Beta Kappa.
Julie's community service is extensive; she is a former board member with the Dallas Museum of Art, Booker T. Washington High School for the Performing and Visual Arts Advisory Board and Dallas Arboretum in Dallas, TX and the board of trustees of the Georgia O'Keeffe Museum in Santa Fe, NM. She currently serves on the Dallas Children's Advocacy Center's Art For Advocacy curatorial committee. Julie lives in Flower Mound, Texas with her husband and works in a studio in Dallas,TX.
2020 Photograph below by Teresa Rafidi.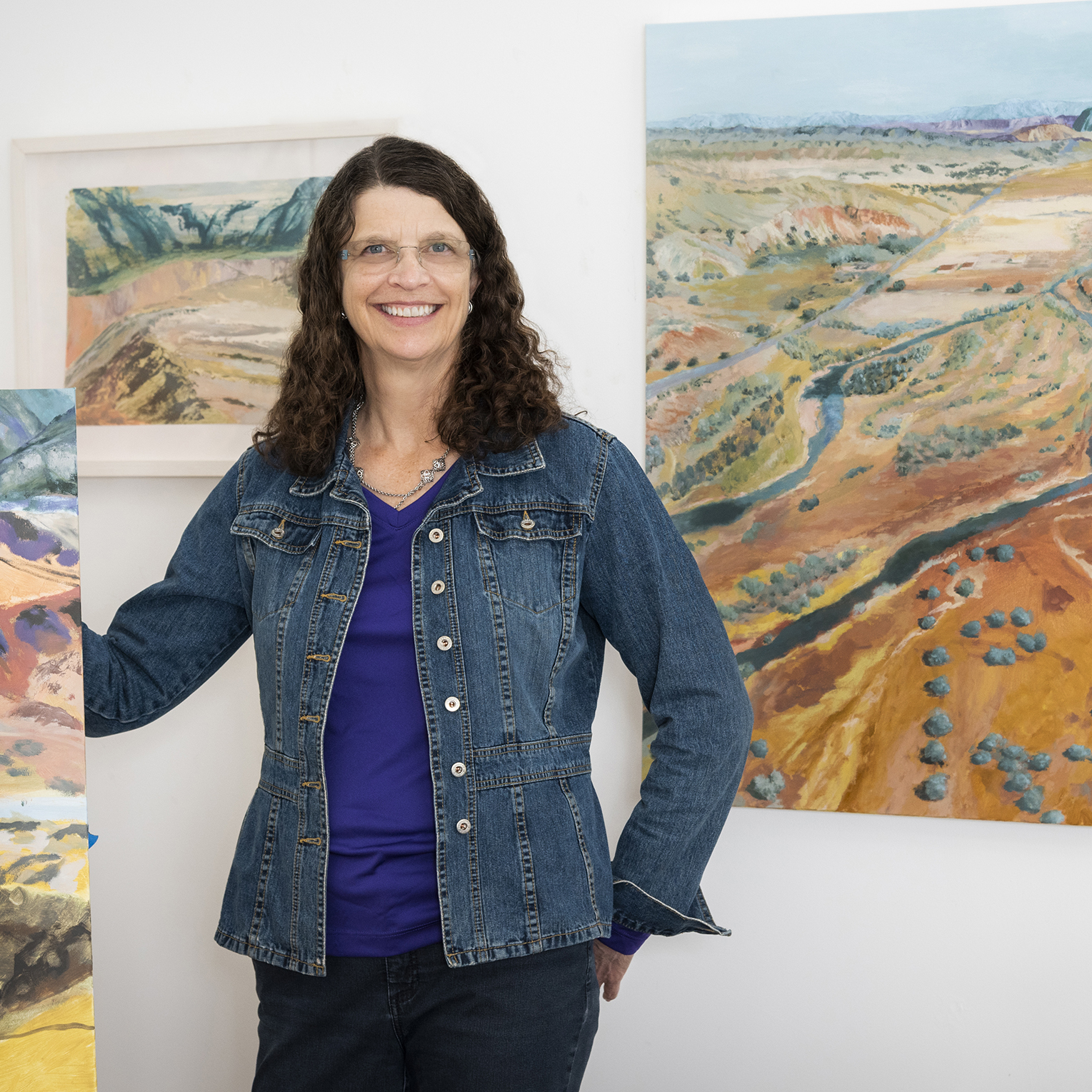 Born
Wisconsin Rapids, WI
Education
2018 Bachelors of Fine Art, Southern Methodist University, Dallas, TX
2015 Associates in Arts Degree, Brookhaven College, Farmers Branch, TX
1979 Bachelor of Science, Chemical Engineering, Texas Tech University, Lubbock, TX
Solo Exhibits
2022            New Terrain, Strata Gallery, Santa Fe, NM
2020             Landscape at Elevation, Fort Worth Community Arts Center, Fort Worth TX
2017             Botanicals, Texas Women Ventures Office, Dallas, TX
2014             Sense of Place, Texas Women Ventures Office, Dallas, TX
Selected Group Juried Exhibitions (2019 – Present)
2022            Territories of Unknown Futures, Fort Worth Community Arts Center, Fort Worth TX
                     Printmaking Concepts, SP/N Gallery, Richardson, TX
                     56th Annual Richardson Civic Art Society Regional Juried Art Exhibition, Eisemann Center, Richardson, TX
2021             CCAN2021! Exhibition, The Center for Contemporary Art, Abilene, TX
                     Inaugural Group Art Exhibition, Strata Gallery, Santa Fe, NM
                     TRAHC's 33rd Annual Juried Exhibition, Regional Arts and Humanities Center, Texarkana, TX
                     Lubbock Arts Festival 2021 Juried Gallery, Lubbock Memorial Civic Center, Lubbock, TX
                     Artist Showcase, Lincoln Experience Center, Frisco, TX
                     Animal? Mineral? Vegetable? , Dallas Metro Contemporary Arts Gallery, Plano, TX
                     CAL National 2021, Conroe Arts League Gallery, Conroe, TX
                     Reflection – Women In Art, Nuu Muse Gallery, Dallas, TX
                     February Group Show, Jones Gallery, Kansas City, MO
2020             New Texas Talent XXVII, Craighead Green Gallery, Dallas, TX
                     CCAN2020! Exhibition, The Center for Contemporary Art, Abilene, TX
                     Abstract Matters National Juried Art Show, 311 Gallery in Raleigh, NC
                     GALEX 54 National Competition & Exhibition, Galesburg, Illinois
                     Richardson Civic Art Society Juried Membership Show, Richardson, TX
                     Experiencing Perspectives Art Exhibit, Mercedes-Benz Financial Services, Fort Worth, TX
2019             SOLO SHOW [DOWN], Fort Worth Community Art Center, Fort Worth TX
                     Calm To Chaos, North Haven Gardens Gallery, Dallas, TX
                     Through A Scope, Fort Worth Community Arts Center, Fort Worth, TX
                     National Juried Exhibition, Center for Contemporary Arts, Abilene, TX
                     Dallas CAC 2019 Annual Juried Membership Exhibition, Mary Tomas Gallery in Dallas, TX
                     California Open Exhibition, TAG Gallery, Los Angeles, CA
                     CHAOS, Small Works Art Exhibition, RO2 Gallery, Dallas, TX
                     GALEX 53 National Competition & Exhibition, Galesburg, Illinois
                     Experiencing Perspectives Art Exhibit, Mercedes-Benz Financial Services, Fort Worth, TX
                     Richardson Civic Art Society, 53rd Annual Regional Juried Art Exhibition, Richardson, TX
                    2019 Texas & Neighbors 34th Regional Art Exhibition, Irving TX
                    Texas Visual Art Assoc. BLUE Juried Exhibition, Dallas, TX
Awards
Mary Vernon Painting Prize, SMU Meadows School of the Arts
Residencies
Vermont Studio Center, one month, 2018
Public and Corporate Collections
Brookhaven College, DCCCD, Farmers Branch, TX
Lancaster Hotel, Houston, TX
Publications / Media Coverage
Annual Folio, Juried Publication 2019, December, 2019
VOYAGE DALLAS, September 28, 2020;  READ MORE
PAPER CITY HOUSTON, October 30, 2019; READ MORE
VOYAGE DALLAS, April 10, 2019; READ MORE 
4WordWomen.org, January 21, 2019; READ MORE
PRIMEWOMEN.COM, October, 2018; READ MORE
SMU Meadows School of the Arts, May, 2018; READ MORE
Dallas Morning News, 8 July 2016; READ MORE
PRIMEWOMEN.COM, October 24, 2017; READ MORE