My oil paintings are inspired by my human connection to our environment. Everyday scenes are my subjects; where we experience a sense of place and memory of being there. How can we keep connected to the land and environment when U.S. rural and agricultural population is on the decline? I seek to express the loss of connection to the land from the rise of urbanism.
My current two bodies of work focus on aerial perspective landscapes of New Mexico and botanical images. Long discussions with the Georgia O'Keeffe Museum about photographing her sites from the air led to photographs used to inspire this body of work. An aerial view is a contemporary view of the land enabled by technology. I incorporate contemporary art with aerial imaging. My paintings are respectful towards both permanency and entropy of the ever-changing land. These landscapes capture gestures of surfaces and spaces.
My natural, organic imagery is complemented with a focus on the act of painting itself with emphasis on mark-making and color. We experience a memory of place and its atmosphere. My work includes geographical, organic forms and botanical gesture, using color as a vehicle to convey the energy coming from nature and space in the landscape.
Julie England is an American artist who grew up in Wisconsin, Florida and Texas. She received a Bachelor's degree in Chemical Engineering at Texas Tech University in Lubbock, TX. After a career in the semiconductor industry, England earned an Associates of Arts degree in 2015 at Brookhaven College, Farmers Branch, Texas.. In 2018 she received a Bachelor's of Fine Art degree from Southern Methodist University, Dallas, Texas. England is a member of Phi Beta Kappa. She  participated in an art residency in October, 2018 at the Vermont Studio Center in Johnson, Vermont.
In 2018 she was honored with the SMU Mary Vernon Painting Prize from the SMU Art faculty. Her artwork was included in the Texas National 2018 Art Competition & Exhibition, juried by Jed Perl. She has exhibited extensively in Texas. England has written for a variety of publications including recently for PrimeWomen.com.
Julie's community service is broad; she is a former board member with the Dallas Museum of Art, Booker T. Washington High School for the Performing and Visual Arts Advisory Board and Dallas Arboretum in Dallas, TX and the board of trustees of the Georgia O'Keeffe Museum in Santa Fe, NM. Julie lives in the Dallas, Texas area with her husband.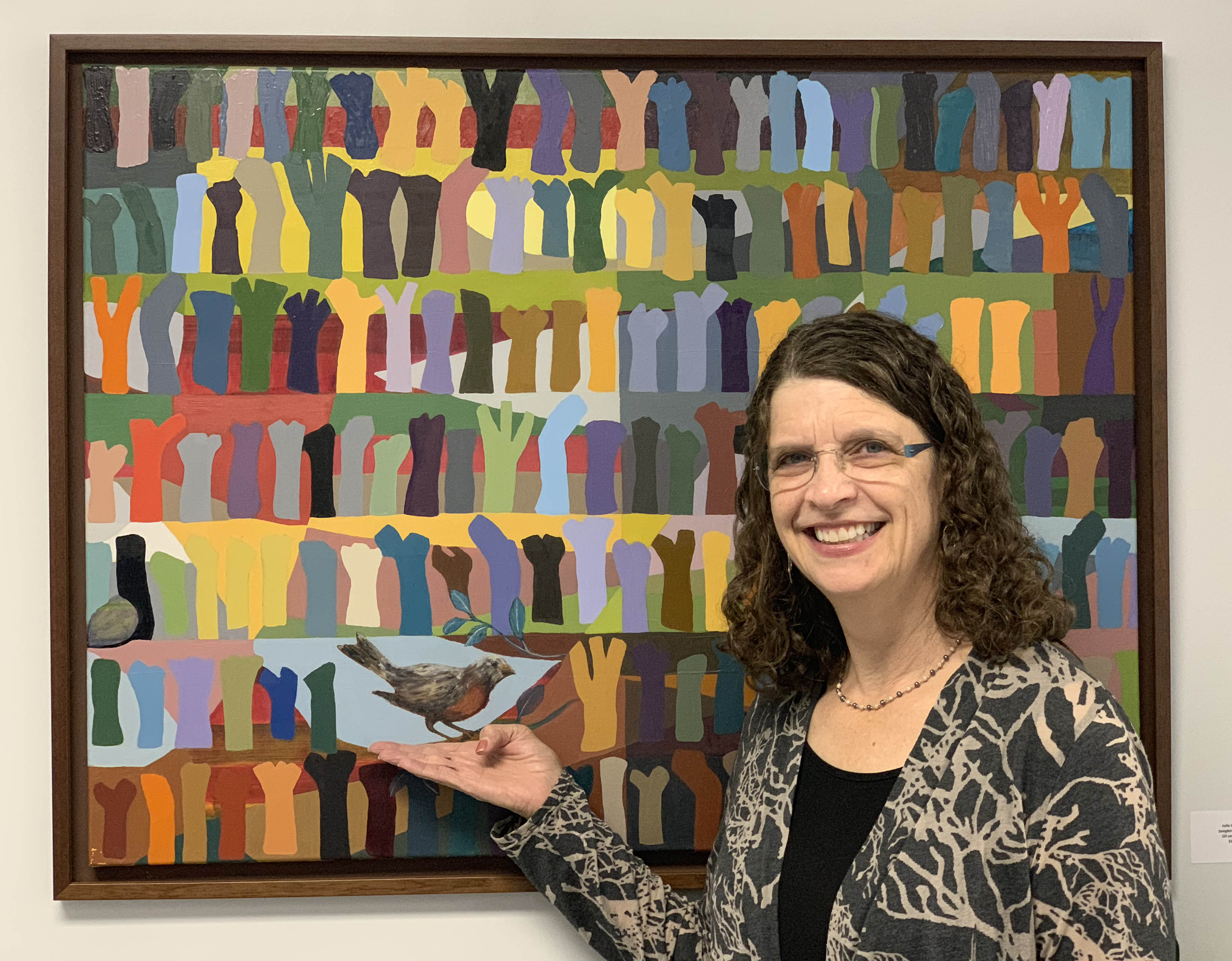 Born
Wisconsin Rapids, WI
Education
2018 Bachelors of Fine Art, Southern Methodist University, Dallas, TX
2015 Associates in Arts Degree, Brookhaven College, Farmers Branch, TX
1979 Bachelor of Science, Chemical Engineering, Texas Tech University, Lubbock, TX
Small Group or Solo Exhibits
2019
The Gallery at North Haven Gardens, Dallas, TX
2018
Capital One, Native American Heritage Art Exhibit, Plano, TX
Southern Methodist University, Pollock Gallery, Dallas, TX, BFA Qualifying Exhibit
Dallas Arboretum, Artscape 2018 Invitational Fine Art Silent Auction
2017
Southern Methodist University, Doolin Gallery, Dallas, TX
Solo Exhibit, Texas Women Ventures Office, Dallas, TX
Eisemann Performance Center, Richardson, TX
2016
The Gallery at North Haven Gardens, Dallas, TX
Eisemann performance Center, Richardson, TX
Cedar Valley College, Lancaster, TX
Parker University, School of Massage Therapy
2015
Studio 8, Valley View Mall in Dallas, TX
2014
Solo Exhibit, Texas Women Ventures Office, Dallas
Selected Group Juried Exhibitions
2019
GALEX 53 National Competition & Exhibition, Galesburg, Illinois
Texas Visual Art Assoc. BLUE Juried Exhibition, Dallas, TX
Richardson Civic Art Society, 53rd Annual Regional Juried Art Exhibition, Richardson, TX
2019 Texas & Neighbors 34th Regional Art Exhibition, Irving TX
Experiencing Perspectives Art Exhibit, Mercedes-Benz Financial Services, Fort Worth, TX
2018
6 x 6 Be There Be Square, Las Laguna Gallery, Laguna Beach, California
Texas National 2018, Stephen F. Austin University, Nacogdoches, TX
5th Annual Artspace111 Regional Juried Exhibition, Fort Worth, TX
Experiencing Perspectives Art Exhibit, Mercedes-Benz Financial Services, Fort Worth, TX
Richardson Civic Art Society, 52nd Annual Regional Juried Art Exhibition, Richardson, TX
Plano Art Association's 125 Show 2018, Plano, TX
2018 Creative Arts Center of Dallas' Annual Juried Membership Exhibition at Mary Tomas Gallery, Dallas, TX
Texas Visual Arts Association, 2018 Citation Juried Exhibition, Mesquite, TX
2017
Experiencing perspectives Art Exhibit, Mercedes-Benz Financial Services, Fort Worth, TX
62nd Annual IAA Members Juried Exhibit, Irving, TX
11th Annual 125-mile Visual Arts Exhibition, Visual Arts Society of Texas, Denton, TX
Fresh Ideas 2017, Visual Art League of Lewisville, TX
Exhibition at Medical City of Lewisville Grand Theater
2017 Creative Arts Center of Dallas' Annual Juried Membership
Exhibition at Mary Tomas Gallery, Dallas, TX
2017 16th Annual National Animal Art Juried Competition, Irving Art Assoc., Irving TX
2016
National Animal Art Exhibit, Irving Arts Association, Irving, TX
11th Annual Texas Artists Coalition Juried Membership Exhibit, Fort Worth Arts Center, Fort Worth, TX
Experiencing Perspectives Art Exhibit, Mercedes-Benz Financial Services, Fort Worth, TX
61st Irving Art Association, Members' Juried Show, Irving, TX
Art In The Atrium 12, Frisco City Hall, Frisco, TX
2015
Art In The Atrium 11, Frisco City Hall, TX
60th annual IAA Members Winners exhibit, Irving Arts Center, Irving, TX
Associates in Art Qualifying Show, Brookhaven College, Farmers Branch, TX
Art in the Atrium, Frisco City Hall, Frisco, TX
Juried Student Art Exhibit, Studio Gallery, Brookhaven College, Farmers Branch, TX
2014
Art in the Atrium 10, Frisco City Hall, Frisco, TX
Collage, Assemblage and Printmaking Juried Show, Irving Arts Association, West Irving Public Library
On My Own Time Art Show, North Texas Business Council For The Arts, Dallas, TX
48th Annual Richardson Civic Art Society Regional Art Show, Richardson, TX
2013
North Texas Business Council For The Arts, Dallas, TX
Plano Art Association Juried Art Show, "Change", Plano, TX
Visual Art Guild of Frisco Summer Juried Art Show "ARTrageous", Frisco, TX
47th Annual Richardson Civic Art Society Regional Art Show, Richardson, TX
58th Annual Irving Art Association Members Show, Irving, TX
2012
North Texas Business Council for the Arts, Dallas, TX
Visual Arts Society of Texas, Denton, TX
Juried Student Art Exhibit, Studio Gallery, Brookhaven College, Farmers Branch, TX
Awards
Mary Vernon Painting Prize, SMU Meadows School of the Arts
https://www.smu.edu/Meadows/NewsAndEvents/News/2018/180509-EndOfYearAwards
Residencies
Vermont Studio Center, 2018
Media Coverage
Dallas Morning News, 8 July 2016
http://ireader.olivesoftware.com/Olive/iReader/DMN/SharedArticle.ashx?document=DMN%5C2016%5C07%5C12&article=Ar05201
PRIMEWOMEN.COM, October 24, 2017
https://primewomen.com/career-and-business/featured-women/second-act-career-julie-england/
SMU Meadows School of the Arts, 2018
https://www.smu.edu/Meadows/NewsAndEvents/News/2018/180509-EndOfYearAwards